Home Page
BRAN - RYE - KRITHARI - CORN
GERMAN RYE, 997 TYPE (POWDER)
Fine German rye flour used to create ryebread and other bakery products.
Product Key 5000- 25 kg packaging
ΣΧΕΤΙΚΕΣ ΣΥΝΤΑΓΕΣ
RYE BAGUETTE 997 TYPE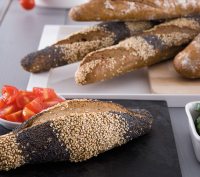 ΥΛΙΚΑ
5000 g of German rye flour 997 type

,

5000 g of 55% type flour, 150-200 g of dried rye leaven

,

200 g of salt, 250 g of yeast, 5800-6000 g of cold water.
ΕΚΤΕΛΕΣΗ
Mixing time: 5 min at slow speed and 5 min at fast speed,
dough temperature: 28°C, dough resting time: 20 min,
fermentation chamber temperature: 32°C,
humidity 75%, weight: 350 g,
baking temperature: 230°C –› 210°C.
BREAD WITH RYE MALT MALTORGE 1200 (BASIC RECIPE)
ΥΛΙΚΑ
6.000 g. of German rye flour T997

,

4.000 g. of Wheat flour T55%

,

4.000 g. of Dried sourdough rye Seigle 1147 150-200 g.

,

100 g. of French Maltorge barley malt 1200

,

200 g. of salt, 200 g. yeast

,

7100-7200 g. of water
ΕΚΤΕΛΕΣΗ
Mixing time: six minutes on low speed and four minutes on high speed,
Dough temperature 29 ° C,
Dough rest 35 minutes,
Proof 32 ° C, Humidity 75%, Weight 900-1800 g.,
Baking temperature 230 ° C -> 210 ° C
next
prev